Principle is a fountain of a drinkable water of the Tarn river. Produced for the exhibition "La Source" and curated by ferdinand(corte) for the Art Center "Le LAIT" in Albi.
Conception / idea : Elisa Fantozzi in complicity with Hervé Ic, March/May 2010.
Principle as: first element, beginning, origin ...is a drinking fountain of Tarn water. Principle is "born" with" Le Labo" project initiated by the Centre of Contemporary Art " Le LAIT" in Albi, and orchestrated by ferdinand (corte), artist and thinker in action. This project has the models of society outlined by artists Joseph Beuys and Robert Filliou, particularly through the spirit of peace, equality and fraternity, solidarity economics, real democracy, bringing together the four pillars of culture: spirituality, art, science and economy. Principle appeared on the banks of the Tarn.
"La Source" March / May 2010, continuing a water circuit through the halls of the Tarn mills, continuing to pump honey at work by Joseph Beuys, a symbol of the spread and advancement of thought . Principle is a fountain of Tarn water thought drinking made by the artist Hervé Ic, and its filtration system. I pursued on his invitation the idea, sort of chemistry between idea and matter, complex fluids and forms, medical plumbing, reporting the body to the cosmos of a perilous process, often fragile, but things become fonctionnal by force of circonstance, and here it is a sculpture!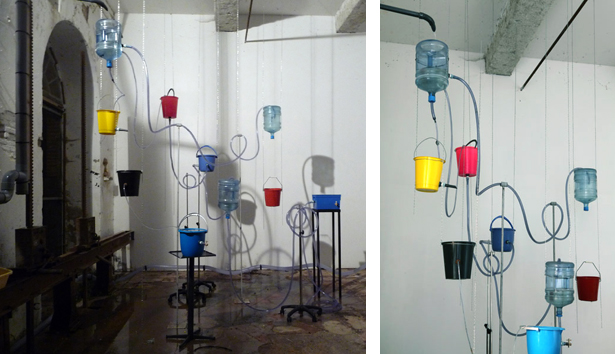 Photography E.F et Phoebé Meyer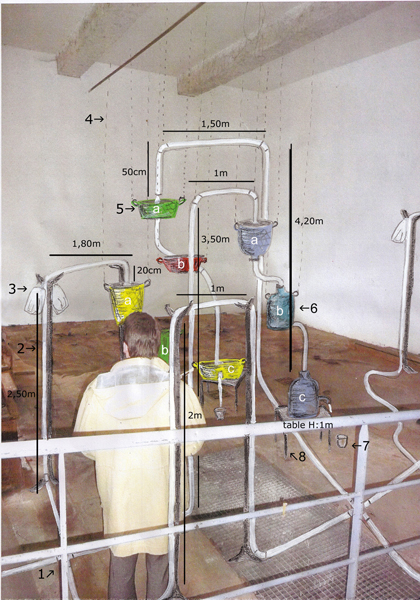 preparatory drawing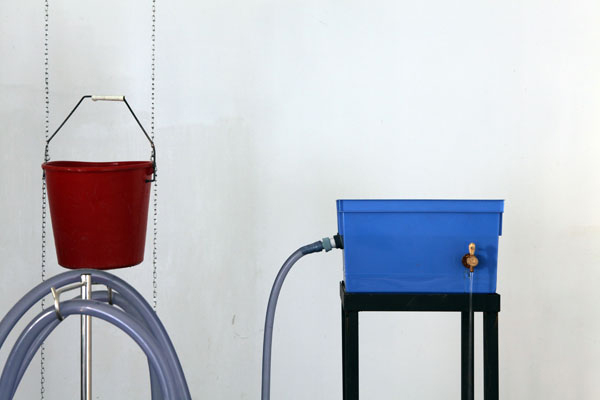 Photography E.F et Phoebé Meyer